The Early Years
Native Californian Brian Domingo was born in Los Angeles County and moved to the Sacramento area as a young child, about five years old. In Northern California, Domingo grew up playing many sports where he excelled in water skiing, swimming, snow skiing, and football. By age 7, he spent his summers water skiing and swimming competitively, while winters brought football fields and snow skiing in the Sierra Nevada (where his father was on the National Ski Patrol). The value of hard work was not lost on the young man, who started working at the age of 10 mowing many of his neighbors' yards every week. By 14, Domingo landed his first real job through the County of Sacramento, working at the same pool in which he swam competitively. He would arrive before morning swim practice (6:30 AM) and clean the pool deck, bathrooms, and locker rooms. He would then swim for his two-hour practice and then work the locker room during afternoons of public swim. At the age of 15, Domingo moved away from Northern California with his family when his father's career took them to Honolulu, Hawaii. Domingo missed snow skiing while living on the island, but with his swimming and water skiing background, he took to surfing like a fish to water. Domingo spent 5 years in Hawaii, graduating from Kaiser High School in Hawaii Kai and surfing some of the most famous surfing spots on the island, including Sandy Beach, Sunset Beach, Pipeline, Waimea Bay, and of course Waikiki Beach.
The Mid Years
By 20, Domingo sought a return to his Northern California roots and started college at Sierra College in Rocklin, California, where he played football with the Wolverines; he also began working part- time for United Parcel Service unloading trucks. Within two years, Domingo jumped on the opportunity to drive for the company and did so for several years until a back injury and the resulting surgery precluded him from driving anymore. Always an optimist, he turned the loss into an opportunity to get his insurance license and start working at Metropolitan Life, where Domingo sold life insurance products and also worked for himself doing home improvement and building projects. Domingo moved back to his birthplace of Southern California in the late 1990s, working for the Hyatt Corporation and pursuing his passion of acting.
Recent Years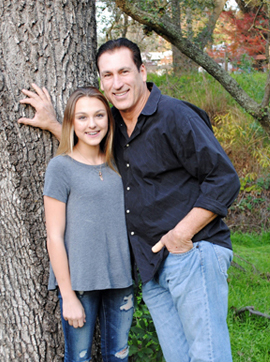 In 2001, Domingo returned to Northern California, where he continued his insurance career working for a brokerage, where he dealt in employee benefits and workers' compensation insurance. At the same time, Domingo also received his General Contractors License and continued his passion of building. In addition to both of these careers, Brian started an online clothing company, Smartass Sportswear, which he continues to run today along with his construction company. In 2003, Domingo's only child, Savannah, was born.
Political Ambitions
Although Domingo has always followed politics closely, studied economics, and California policy and regulations, it wasn't until the recent presidential election and the current political and economic atmosphere in California that he felt it was his civic duty to get involved in creating change in California. One of the biggest deciding factors in his run for office is his daughter Savannah. Domingo's concern for Savannah's future--indeed for the future of all Californians-- ignited his passion to make a change. Domingo can no longer sit idly by watching company after company leave this great state for what industry perceives as greener pastures of other states. Domingo is tired of watching the middle class of California become our biggest export. California's high taxes, uncontrolled spending, water crises that affect agriculture and residents alike, poor school rankings, increasing homelessness, jobs loss, hostile business climate with high Workers' Comp costs and regulations, and balancing environmentalism with a good business environment are just a few of the issues he will address. While Domingo fully understands the uphill battle he is embarking upon, he is steadfast and determined to make changes in policy to help make California a world economic powerhouse again. Join Californians for a Prosperous California and Committee to Elect Brian Domingo for Governor 2018 and help make changes in California Policy.